Charles Avison
1709- 1770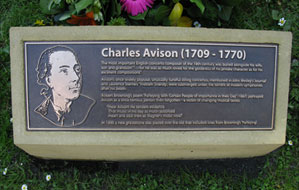 Born in 1709 into a musical family, Charles Avison's first teacher was his father, Richard, himself a highly accomplished musician. Under his father's tuition Charles learnt to play violin, flute and harpsichord. He later continued his musical training in London, with the famous Italian composer Francesco Geminiani, before returning to Newcastle in 1735 to take up the position of organist at St. John's Church in Newcastle, moving on the following year to take up a similar post at St. Nicholas (now the cathedral) at an annual salary of £20. It was a post he was to hold for the rest of his life.
It was during 1735 that Avison began a series of subscription concerts, the first of their kind in Newcastle, along the lines of those held in London and Edinburgh. These fortnightly concerts took place in the Assembly Rooms and Mr. Parker's Long Room at the Turk's Head Hotel. They were such a success that they continued throughout Avison's life and after his death.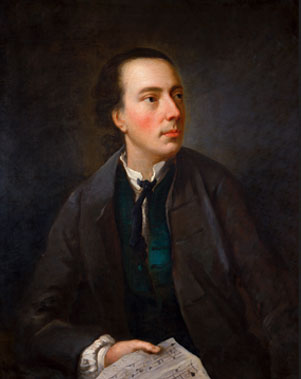 A subscription of half a guinea admitted one gentleman or two ladies to the full series. A concert night included music, dancing and card playing and was generally for the 'well-to-do'. They were extravagant social occasions giving audiences the chance to dress up and be seen. The subscription concerts provided Newcastle with a high standard of entertainment, which, in turn, helped to establish its reputation as a provincial centre with a vigorous musical life.
Marriage and family
Soon after the establishment of the concert series, in January 1737, Charles married Catherine Reynolds. They were a deeply attached couple devoted to the welfare of their family. Together they had nine children, three of whom, Jane, Edward and Charles survived to adulthood. All three could play the harpsichord and Edward and Charles followed in their father's footsteps, training as professional musicians. Both sons held the post of organist at St. Nicholas.
A professional performer and composer
Avison's musical activities were not limited to Newcastle. He collaborated with John Garth, organist of Durham Cathedral in promoting subscription concerts in Durham. Avison was so busy during the week that it is amazing he had any time to compose at all. Mondays and Fridays were spent teaching; Tuesdays were for Durham concerts; Wednesdays for theatre productions in Durham and Newcastle; Thursday was dedicated to Newcastle concerts; and on Sundays musical evenings were held at the vicarage of St. Nicholas. All this was on top of his formal church duties.
Professional reputation and critical assessment
In his day, Avison's reputation extended well beyond Newcastle and he was invited to take up positions in London, York Minster, Dublin, and at Charterhouse, as organist, after Pepusch's death. Avison decided to remain in Newcastle, however, and spent his entire working life in the city right up to his death, at home in Green Court on 9th May 1770. Charles Burney, the London critic, wrote upon Avison's death that he was, "An ingenious and polished man, esteemed and respected by all who knew him; and an elegant writer upon his art." Avison was buried in his family plot at St. Andrew's Church, Newcastle.
Avison's music celebrated in the BBC's Georgian Pleasures series

As part of the BBC Four and Radio 3 Georgian Pleasures series in April and May 2014 Suzy Klein and conductor Christian Curnyn explored the vibrant and cosmopolitan musical scene in Newcastle. Charles Avison was recognised as the key person in the musical life of the town due to his organising assemblies where the latest music from London and his own music were performed. His works, in particular his Concerti Grossi, were celebrated for their high artistic worth. Click here or on the logo to download the BBC podcast.