Charles Avison's Workbooks project
Music manuscripts of Newcastle's famous 18th century composer
The Avison Ensemble is delighted to have received a Heritage Lottery Fund (HLF) award towards an exciting project to publicise and explore Charles Avison's Workbooks.

Made possible by money raised by National Lottery players, the project focuses on two autograph manuscripts by Avison and it will explore the importance of the Workbooks to the North East's heritage through a series of events from May 2017 to May 2018, including schools learning projects in Newcastle, Northumberland and County Durham and the opening of a new Avison Archive at the Charles Avison Building – Newcastle City Library.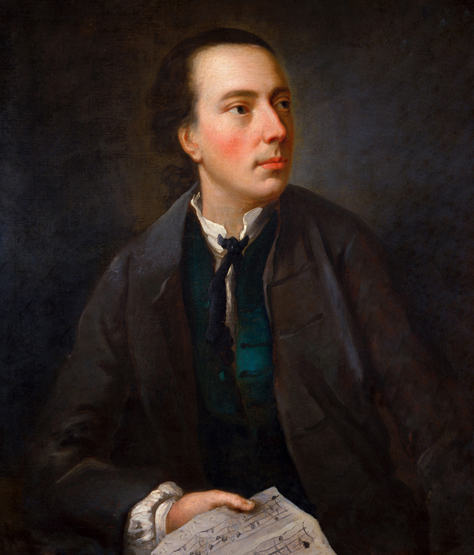 People of all ages will have the chance to discover for themselves the importance of music from the Workbooks, which has been unheard for over 250 years, and to understand its relevance today to the North East's cultural heritage. Songs sympathising with the Jacobite rebellion of 1745 have been discovered in the Workbooks and these could shed an interesting light on North East political sentiments and discontented Scots over 250 years ago!
Period instruments will be used by the Avison Ensemble to recreate the sound world that people of Avison's time would have known. Public events comparing the crafts of Avison and the wood engraver Thomas Bewick will enable contemporary audiences to better understand the importance of Avison's Workbooks and their significance to our heritage.
Working with heritage professionals from the Library and the Literary and Philosophical Society the project will be able to give a greater exposure to these fascinating documents, and the Avison Ensemble's 'Wandering Minstrels' schools learning team will help North East children to learn more about their musical heritage.
Charles Avison's Workbooks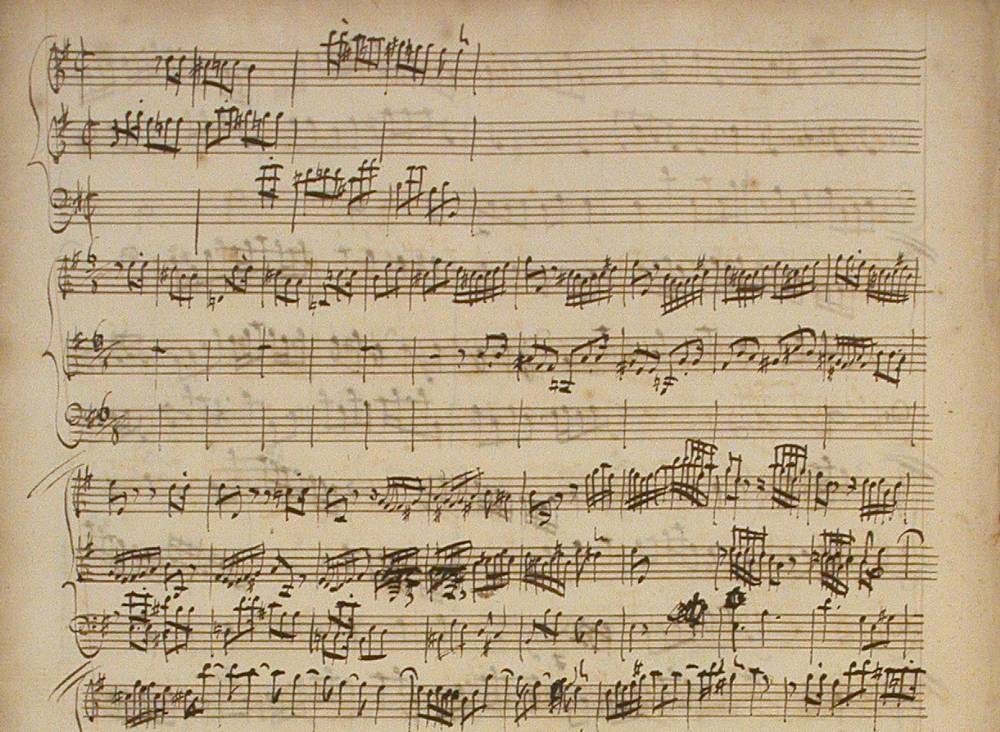 Charles Avison (1709 - 1770) was the most important English concerto composer of the 18th century, as well as being a concert organiser in Newcastle upon Tyne and organist of St. Nicholas's Church, now Newcastle Cathedral.
Autograph manuscripts by Avison were practically unknown until the Avison Ensemble acquired his two music Workbooks in 2002. After restoration funded by the Heritage Lottery Fund, the Workbooks have been on loan to Newcastle's City Library housed in the Charles Avison Building and the music contained in them has been played and recorded by the Avison Ensemble.
The Workbooks provide a rare glimpse into how Avison and many other 18th century composers devised their
music, as well as containing previously unknown pieces by Avison and transcriptions of music by others. There is music by Avison's teacher and friend, the Italian musician Francesco Geminiani, who profoundly influenced Avison's own compositional technique. Also included are Avison's transcriptions of music by Francesco and Stephani Scarlatti, neither of whose music appears to have been published. Many of these works would have been performed at Avison's own concerts.
In these two volumes five hands can be easily identified. One of these is Avison's own, with the others possibly belonging to his sons Edward and Charles, or to his pupils.
These manuscripts are of great importance to the cultural history of Newcastle and North East England and to our understanding of the musical world in England during the18th century. They add considerably to our knowledge of Avison's music whose importance as a composer has now been secured thanks to the efforts of the Avison Ensemble, which was formed over thirty years ago to promote the music of Avison and his contemporaries.

Project activities
Further information about each event can be found here.
Avison Workbook on display at Newcastle City Library
May 2017 | Newcastle City Library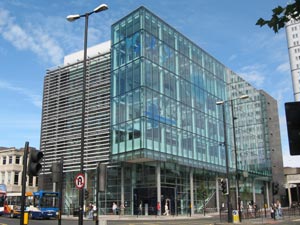 One of Avison's Workbook will be viewable in Newcastle City Library's Special Collections display during May 2017.
Click here for details of the Avison Collection that forms part of the Library's Newcastle Collection.
The Avison Ensemble Young Musicians' Awards 2017 Award Winners' Concert
6 May 2017 11am | The Literary and Philosophical Society, Newcastle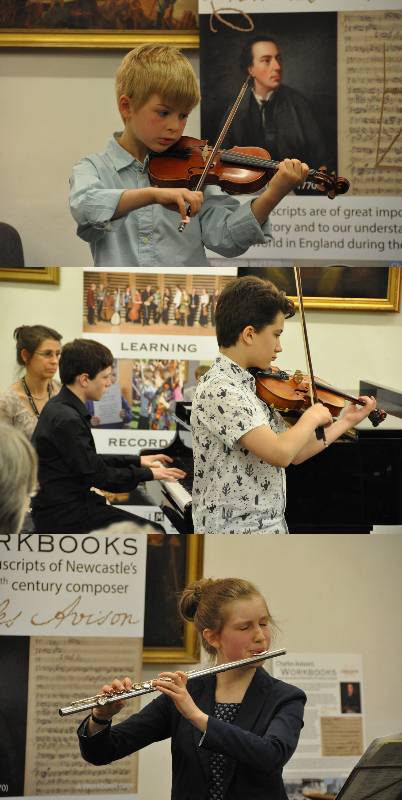 Our Award Winners' concert celebrated the best young musical talent in the region!
The concert included performances from the winners of this year's Young Musicians' Awards together with performances from some of the other finalists. The award winners were presented with their Awards and a year's free membership of the Literary and Philosophical Society's Library. Our concert is a great showcase of the young talent we have in the North East! To find out more about our annual Young Musicians' Awards click here.
One of Avison's Workbooks was on view during the concert and was introduced by the Ensemble's Executive Director.

The Late Shows at Newcastle City Library
20 May 2017 7pm - 11pm | Newcastle City Library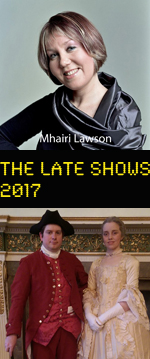 We were part of this year's Late Shows, the free late-night culture crawl in Newcastle and Gateshead where museums, galleries, studio collectives and landmark historical buildings come together to offer visitors one-off events. Read more about the Late Shows here.
We were at Newcastle City Library where one of Avison's Workbooks could be viewed up close. Also John Treherne (harpsichord) and other musicians were joined by Mhairi Lawson (soprano) to perform music and songs from the Workbooks accompanied by dancers in period costume.
Each performance lasted about 10 minutes and we repeated them throughout the night. Thanks to the enthusiatic audience who joined us at City Library to explore the wonderful Workbooks and the music they contain!
Click here for more details on the event.

'The Italian Connection' concerts
20 September 2017 7:30pm | Bishop Auckland Town Hall
23 September 2017 7pm | The Literary and Philosophical Society, Newcastle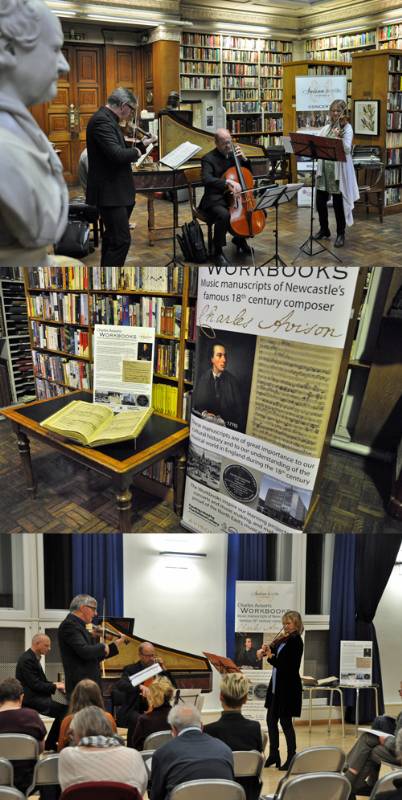 The principal members of the Avison Ensemble celebrated the legacy of Newcastle's 18th century composer Charles Avison by presenting a programme tracing the huge influence of Italian composers on English musical life in the 17th and 18th Century.
The concerts featured music by Avison, Corelli, Geminiani, Handel, Purcell and others. One of Avison's manuscript Workbooks was on view at the concerts and the Ensemble brought to life music from the Workbook during the concerts.
England, and particularly London, was a magnet for foreign musicians, and concert audiences flocked to hear the latest musical styles as they arrived from continental Europe. After his formative years in Rome where he played with the legendary Arcangelo Corelli, Handel moved to London where his assimilation of Italian style led to his dominance, particularly in the world of opera. Geminiani and Veracini were just two of many itinerant musicians who came to London in the 18th century seeking their fortune.
Our namesake, Charles Avison, studied in London with Geminiani before becoming England's most prolific producer of 'Concerti Grossi' and running an extremely successful and long-lived concert series in his home town of Newcastle upon Tyne.

'Carving Wood, Carving Sound' lecture recital
10 November 2017 6pm | The Literary and Philosophical Society, Newcastle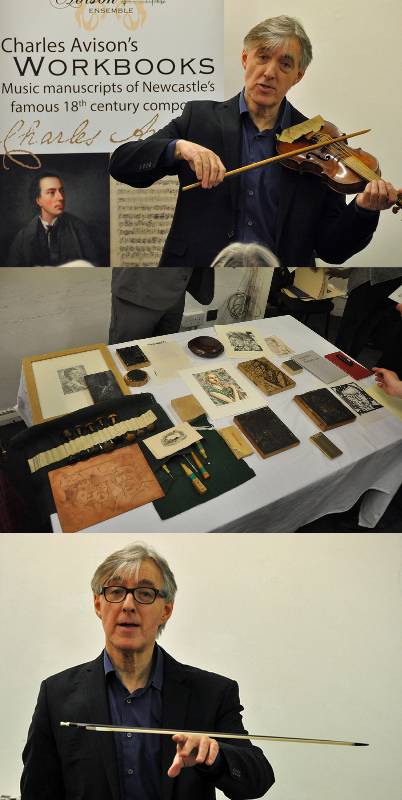 This lecture recital by Pavlo Beznosiuk (violin) and Chris Daunt (wood engraver) juxtaposed the evolutions of the violin bow and wood engraving from the 18th century.
The violin bow of the 18th century was a very different tool to its modern counterpart. It was simple in construction but capable of a far more varied repertoire of nuanced strokes. Renowned Baroque violinist and our principal violinist Pavlo Beznosiuk charted the history and development of the violin bow and showed the very specific musical and technical advances made by violinists of the18th century.
Wood engraving is a print making process that grew out of the technique of the woodcut. Master wood engraver Chris Daunt showed how wood engraving developed from the desire to achieve a finer line and greater tonal range than the wood cut, as well as the need to be able to print images alongside moveable type.
Chris explained how Thomas Bewick (1753-1828) from Gateshead perfected the art of wood engraving to a level that has, arguably, not been surpassed. Chris explained how wood engraving became the main method for producing publication images in the 19th century and went on to become a fine art in the early 20th century. Chris described the process from the point of view of a practicioner and teacher and had a selection of tools, blocks and prints on view.
As part of this event we were able to explore the heritage and legacy of Charles Avison's music by displaying one of Avison's manuscript music Workbooks from the 1750s. It was highly appropriate that in addition to this lecture recital about the mechanics of making music and printing we were able to make this Workbook available to view at this event to show the mechanics of music composition.

The Avison Ensemble Young Musicians' Awards 2018 Finals
10 March 2018 9am | The Literary and Philosophical Society, Newcastle

Our annual Young Musicians' Awards is an opportunity for young classical musicians in the North East region to perform in front of a live audience and be given advice and encouragement from a panel of professional musicians. Entrants are judged not only on their perfornances but more importantly on their progress between the First Round Assessments and the Finals.
The Young Musicians' Awards 2018 Finals were held on Saturday 10th March 2018 at the Literary and Philosophical Society, Newcastle. The Awards assessors heard sixteen finalists for the four categories of Grades 1-3, Grades 4 - 6 and Grades 7 and 8 and Grade 8 and above, and one ensemble. The winners will perform at our Awards Winners' Concert on Saturday 28th April 2018 at the Lit and Phil where they will be presented with their Awards engraved with their names. Click here for details of this event.
To find out more about our annual Young Musicians' Awards click here.
We were delighted to be able to show one of Charles Avison's music manuscript Workbooks at this event and it was good to see so many people exploring this unique piece of Newcastle's heritage.


We're grateful to The Literary and Philosophical Society for hosting this year's Finals and for generously presenting each of the winners with a year's membership of their Library.