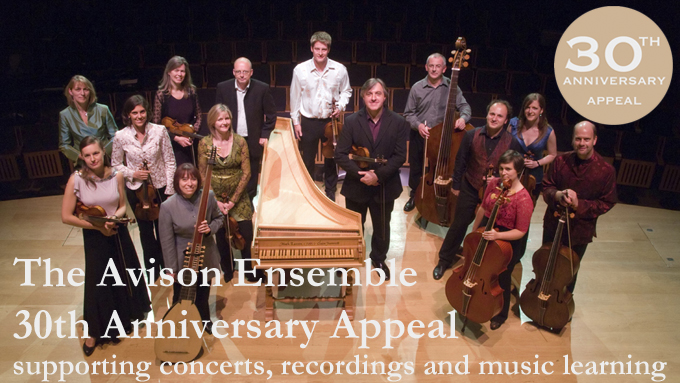 We're celebrating 30 years of our music making, recordings and outreach!
Inspired by the cultural history of these glorious islands, the Avison Ensemble has for the past 30 years touched countless lives, young and old, with music making of the highest quality.
We have brought to life the art and creativity of the Age of Enlightenment for the education and enjoyment of modern audiences, and we have given strong support, encouragement and renewed hope to the aspiring young.
What we play is life
The harmonic nature of music is the best example there is of how we can live together successfully and creatively. Through their music the composers of the past are reborn, and so renewed they remind us of their special message of what it is that makes us human - love, joy, passion and tenderness, and all the infinite positive varieties of human expression.
We need your support
Today humanity needs music more than ever before. Can we therefore enrol you into being the cause to give life to an abundant future of music and inspiration, and the possibility of music for everyone? That will mean so much to us and to the many people we reach.
We need your financial support to continue our amazing work, so please be brave and support our 30th Anniversary Appeal! Thank you.
How you can support us
Please help us to continue our music education work, outreach activites, concerts and recordings!

Alternatively please send cheques made out to 'The Avison Ensemble' to The Avison Ensemble, 3 Bentinck Place, Newcastle Upon Tyne, NE4 6XN.
Thank you for your support!
Want to donate in other ways or want to know more about our 30th Anniversary Appeal? Please click here to email us or contact us on 0191 226 0799.
For more information on our education and outreach work have a look at the webpages for our Wandering Minstrels Project, our annual Young Musicians' Awards, our learning events and projects, and our all-age music interpretation workshops with international conductor and corporate speaker Benjamin Zander.
We're grateful to the following for supporting our Appeal ~